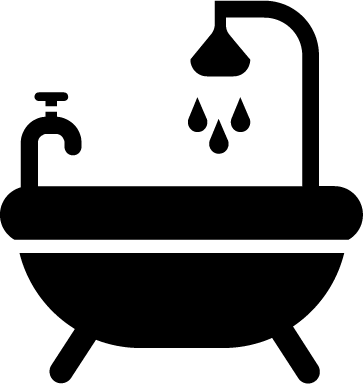 Shower Power
The ultimate shower for a home-spa quick fix.
This is a mind and body treatment with just one product that will enhance your mood and leave your skin feeling silky smooth. Pick a pack of mood melts to focus on enhancing your mood, or our clay spa melts for a focus on your restoring your skin.
1 - As the bar starts to fizz, rub all over your body to gently exfoliate.

2 - Take your time and breath in the gentle aromas as you cleanse & exfoliate your body.

3 - Important, leave the foam on for a short while to allow the clay and fruit extract to purify and soften your skin. We recommend turning the shower off for 2 or 3 minutes whilst you do this,

4 - Once it reduces in size crush it in between your hands to create one last explosion of moisturising foam with raw cocoa butter. Rub all over to get the maximum moisturising effect.

Bonus tip! Add a mood roller to your order, for a little mood boost at anytime of the day.
HOME SPA TREATMENT IDEAS
MUSCLE MANAGEMENT
Iron out those aches and pains with this invigorating body treatment.
EASE ACHES & PAINS
DETOX WITH CLAY
Designed to draw out impurities and deeply cleanse your skin as you soak and enjoy.
SHOP DETOX TREATMENT
DEEP NOURISHMENT
Enjoy silky smooth and deeply nourished skin and beat the effects of harsh weather.
REPLENISH AND SOFTEN